I know it's a bit late for a post about Portal 2, but I was just reminiscing back to when I played it (at the beginning of last December) and thought it deserved a post!
Note: CONTAINS SPOILERS
I was first introduced to Portal back when Steam was giving it away for free. Heck, the only reason why I have a steam account right now is due to that promotion. Anyways, when Portal 2 came out back in April of 2011, I really wanted to play it. However, one small problem arose: I'm a University student. Now I know that the only reasons kids are supposed to go to college are to be lazy and play video games all day, but I couldn't do that. As much as I dislike uni, I had to keep my grades up and study. However, there exists this special time of year called winter and during this winter, University students get
WINTER BREAK
!!
During Winter Break, I acquired Portal 2 and beat it within 8 hours. Yeah, I know, it took me forever, but I had other things going on. Anyways, here are my thoughts about it:
Portal 2 is an amazing game; it's
funny
, it's somewhat of a
challenge
, and you
feel good
beating it. However, there's no real replay value unless you play the multiplayer campaign.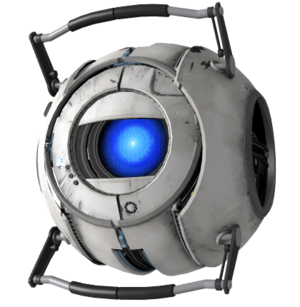 I especially loved Wheatley at the beginning and genuinely felt bad when he got all power hungry.
I, also, started to like GLaDOS, especially when she got turned into a potato. The dialogue throughout the entire game was golden; from Wheatley to Cave Johnson, it was all so funny.
If you haven't picked up Portal 2, and you aren't bummed out by the spoilers in this post, do so!!
It's an amazingly hilarious game and you won't regret it!